(I realize it's not the first Friday of the month, but I was distracted by the holidays and the Downton Abbey premier. Better late than never!)
I'm excited to introduce you to my friend, Tereasa Mansfield. We connected through a link-up last year. The more I learned about her compelling story, the bigger fan I became. (I actually mentioned her in my Legacy series last year.) She recently moved to the US from Canada, with her handsome hubby and three children.
You can find her online at www.hispenonmyheart.com and as @mtereasa on Twitter.
~~~~~~~~~~~~~~~
I'd like to have a conversation with you. Have a seat. Can I get you something hot to drink? There is something I really want to talk to you about. It is important that you are honest with me, though. I want us to take a really good look at ourselves while we talk.
What would you do if Mary came to church today?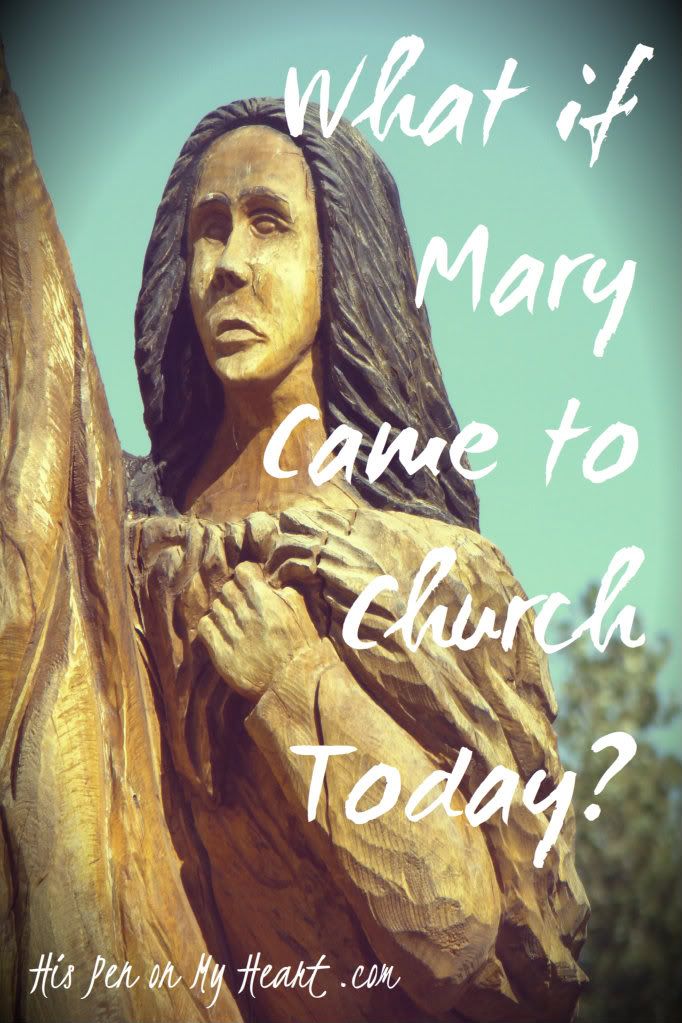 No, I'm not talking about the mother of Jesus. I'm talking about the other one. Yeah, the one who did dirty things for money and made the religious men uncomfortable.
What would you do if she showed up?
Ok, sure you would be nice to her or else she would tell Jesus on you. Right? Or, maybe you would want to sit with her and hear what she has to say about Jesus. For real. That is probably what I would want.
Well, what if you did not know she was Mary? What if she was just some girl who showed up in skimpy clothes and said all the wrong things at the wrong time?
Do you think you would talk to her or would you ignore her, hoping that she would leave before the weaker men in the congregation caught a glimpse of her thighs?
Alright, maybe you would remember that we are the body and decide to act like Jesus and let her in.
Would you know how to make her feel comfortable? Would you hand her a hymnal and hope she knows what to do with it? Would you sing along with the words on the overhead and raise your hands to heaven so she could smell your pleasing aroma?
Or would you make sure she knows what's going on? And how would you do that without embarrassing her?
So. . . maybe you've got that covered.
Now. What would you do when the preacher got up and started talking about the Good Book? What if he started using words and saying things that are completely irrelevant to someone who has never set foot inside a church building? What if everything he said sounded like a foreign language to her? Even if it was very simple and relevant to you?
I'd really like to know how you'd handle that.
Well, let's say you feel affectionate toward Mary and desire to build a relationship with her. How would you do that?
Would you invite her to lunch?
Would you invite her into your home?
Sure, you would.
Wait a minute. You have children, don't you? What about them? What will they think if you consort with the likes of her? What if they hear something they shouldn't? What if they saw something they have never seen before?
Well, you know, Mary would have a lot of questions after everything she experienced this morning. Some of her questions might make you blush.
Would you invite her anyway?
Or would you protect your children's innocence?
Have you ever considered how Mary ended up in the life she has? Oh friend, we could talk about the possibilities for hours. Couldn't we?
I think it pretty much comes down to this. She needs love. Just like I need love and so. do. you.
You know? The chances are, if Mary came to church today and you chose to welcome her, you would end up finding out that Mary needs a lot. You would probably realize that she needs more than you can give her in one hour of worship or a few fleeting minutes over lunch.
You would probably leave feeling like someone just dropped an infant at your doorstep. Then you would realize that you have just picked up a burden that is very heavy and consuming.
Would you be ready for that?
Are you ready for that?
I was just wondering, because. . . well, we keep calling ourselves the body of Christ and I have been thinking about what that means. And, you know? I don't think it means quite what we have thought or, at least, what we have acted like.
In welcoming Mary into your congregation, what are some obstacles you see?